Did you know that it's National Cereal Lovers Week? It began yesterday and it continues the rest of this week. Seeing as how I love cereal, I think it's a fun week which gives me an excuse to eat more cereal. In fact, I received a fun (free) package of cereals and other kitchen goodies to celebrate the week. I also received some tasty recipes that use cereal in a different way. For instance, I received this Golden Grahams Chicken recipe by Amanda Frietag and I tried it out this weekend with my boyfriend. Look at how simple it is!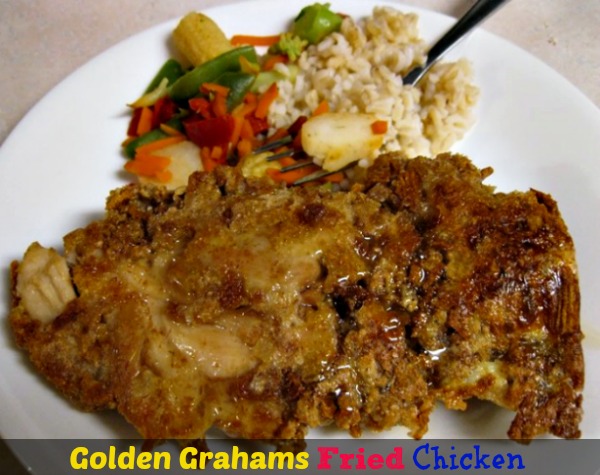 Golden Grahams Chicken
I think you should be aware of the fact that my boyfriend and I really enjoy chicken. We usually eat it at least once on the weekend. We try to prepare it in different ways, so this Golden Grahams Chicken recipe was right up our alley… It combines my love of cereal and our passion for chicken (perhaps that's a bit strong, but you know what I mean). See how easy this is to make.

Golden Grahams Chicken
Prep time:
Cook time:
Total time:
An easy Golden Grahams chicken recipe to celebrate Cereal Lovers Week.
Ingredients
4 Boneless Chicken Thighs
1 Cup Flour
Cayenne
2-3 Eggs
1 Cup Golden Grahams Cereal
½ Cup Rice Chex Cereal
1 Cup Honey
Dashes of Tabasco
¼ Cup Apple Cider Vinegar
Salt & Pepper
Olive Oil
Canola Oil
Instructions
Chop up and combine the two cereals. You may also add ½ cup plain breadcrumbs, if you wish.
Pre-heat oven to 350. Place 3 bowls on working space, near each other. Put the cereal in one bowl.
In another bowl, put in the flour with a dash of salt and cayenne.
In the third bowl, add the eggs.
Arrange the bowls in a line, starting with flour, then the egg bowl, and put the cereal last.
Season chicken with salt and pepper.
Coat chicken in flour and then dip into the eggs.
Move chicken to the cereal and fully cover it with the cereal.
Place the chicken on a baking sheet and give it an optional additional sprinkling of salt.
Bake chicken for 10-15 minutes or until the juices run clear when poked with a fork.
For the honey drizzle: Heat the honey in a pan on medium heat. Add the vinegar and Tabasco sauce to taste. Then, stir.
The original recipe called for breadcrumbs. However, there was a little mix-up with ours. So, we left it out. Additionally, my boyfriend didn't want to add the extra salt as too much sodium gives him a headache. So, we used the salt sparingly. Lastly, I ended up preferring plain honey with my Golden Grahams Chicken. It was a nice combination of sweetness (from the cereal and honey) with a little saltiness of chicken and salt. The chicken came out juicy and delicious. My boyfriend said that we would be making it again.
So, what do you think of using cereal to make fried chicken? Will you be trying some Golden Grahams chicken this week?