Earlier this year, I posted the spiced apple cake with orange glaze recipe that used Musselman's apple butter. Recently, I received another jar of it to post about it and I made some autumn pumpkin apple butter dip using it. It's so easy that I had to share.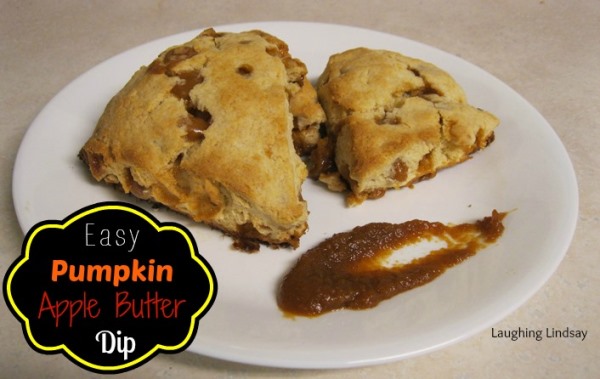 Pumpkin Apple Butter
Like I said, this little pumpkin apple butter dip recipe is so simple, I'm not sure how I didn't think of it before now. However, the people over at Musselman's did, so that's what matters. It's a delicious dip that is great for multiple baked goods. We made some scones (stay tuned for that recipe) for them, but I could definitely see it going well with some honey pretzel sticks. They suggest serving it with gingersnaps or graham crackers, which could also be good. Additional serving suggestions from them include pancakes, waffles, french toast sticks, and spreading it on bagels. Yum! Just thinking about the possibilities makes my mouth water.
So, let's get to this ridiculously easy pumpkin apple butter dip recipe!

Easy Autumn Pumpkin Apple Butter Dip
A delicious yet super quick dip that tastes great.
Ingredients
2 cups MUSSELMAN'S® Apple Butter
1 cup solid pumpkin
Instructions
Measure out ingredients.
Put them into a bowl.
Mix together well.
Enjoy with your baked good of choice.
Was I right? Is that not the easiest and simplest recipe I've ever posted? My boyfriend was actually surprised that I would do this recipe to feature on here because it is so simple. However, I think simple is usually good. So, I hope at least one of my readers is able to try this pumpkin apple butter recipe and enjoy it. It's certainly the perfect dip for fall. Just smelling it reminds me of cooler days and sweet treats.