It's been a while since my last recipe (where are you food companies?). So, I thought I'd share this super quick and easy coffee cake recipe that I just made yesterday. It's so painless that I came up with it by myself and did it yesterday morning on a whim. I guess I need to start listening to my inner thoughts because this turned out great! Let me know if you try it and what you think of it.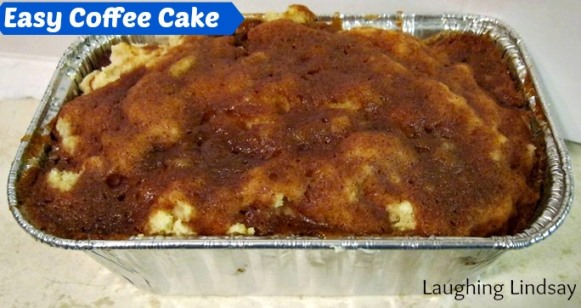 Coffee Cake Recipe
What makes this coffee cake recipe so easy is the ingredients. I'm all for taking shortcuts in the kitchen, as long as the food still tastes good. So, I opted for biscuit dough for the "cake" of this recipe. Check it out!
Easy Coffee Cake Recipe
Prep time:
Cook time:
Total time:
It's an easy coffee cake recipe containing biscuit dough.
Ingredients
1 can or other forms of prepared biscuit dough
⅓ cup brown sugar
¼ cup flour
1-teaspoon cinnamon
¼ cup butter, softened
Instructions
Preheat the oven to 375. Prepare and arrange half of the biscuit dough in the bottom of a pan.
In a separate bowl, combine the sugar, flour, cinnamon, and butter.
Pour half of that mixture on to the biscuit dough.
Place the remaining half of the biscuit dough on top of that.
Pour the remainder of the sugar topping on top.
Bake 20-25 mintues for a 8x8" pan or 13-15 minutes for smaller pans, like I used.
I will admit that I attempted to soften the butter and it ended up melting some. So, my topping wasn't so much of a streusel topping as just another layer of goodness. Either way, this easy coffee cake recipe is terrific and I really like it. What do you think of it? Will you be trying it?