Peanut Butter Chocolate Chip Cookies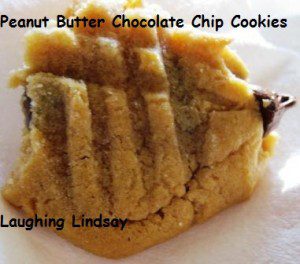 1 cup peanut butter
½ cup butter
½ cup sugar
½ cup packed brown sugar
½ teaspoon baking soda
¼ teaspoon salt
1 egg
½ teaspoon vanilla
1¼ cups flour
1 cup chocolate chips
Preheat the oven to 375 degrees.
Combine the peanut butter and butter. Then, add in the sugars, baking soda, and salt, mixing until combined.
Beat in the egg and vanilla. Then, add the flour a little at a time. Mix together and then add the chocolate chips.
Form the dough into balls and place onto a cookie sheet. You can flatten the cookies and create a crisscross pattern using a fork (my mom always did). Dip the fork into sugar in between cookies.
Bake for 8 to 12 minutes, depending on how big the cookies are.
Remove cookies from oven and cool.
Recipe by
Laughing Lindsay
at http://laughinglindsay.com/peanut-butter-chocolate-chip-cookies-recipe/