Kraft No-Fuss Turtle Cake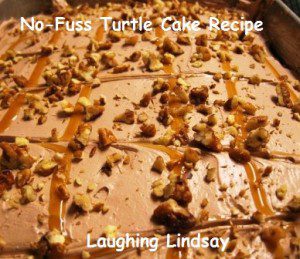 1 pkg. (2-layer size) chocolate cake mix
1 tub (10.6 oz.) COOL WHIP Chocolate Whipped Frosting, thawed
3 Tbsp. caramel ice cream topping
½ cup chopped PLANTERS Pecans
PREPARE cake batter and bake in 13x9-inch pan as directed on package (we did substitute apple sauce for the oil in ours) and then cool completely.
SPREAD cake with frosting; drizzle with caramel topping (TIP: Drizzle caramel topping in even parallel lines down length of cake. Pull tip of knife crosswise through caramel lines to make decorative design.).
SPRINKLE with nuts. Keep refrigerated.
Recipe by
Laughing Lindsay
at http://laughinglindsay.com/kraft-no-fuss-turtle-cake-recipe-with-cool-whip-frosting/