Caramel Pancake Mix Scones Recipe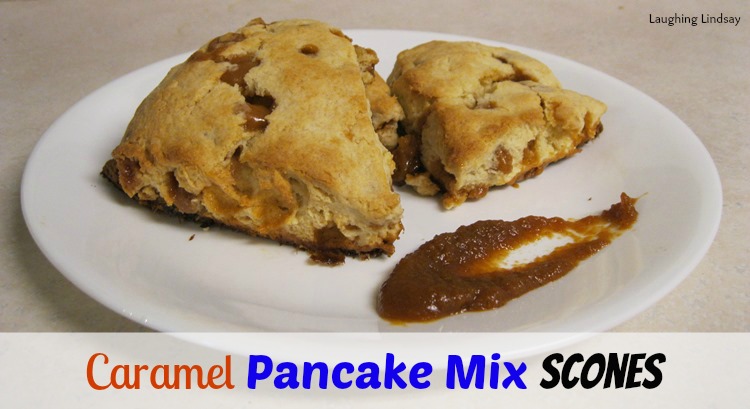 3¼ cups pancake mix
¼ cup sugar
¼ cup cold unsalted butter, cut into small pieces
1-2 cups caramel pieces (or other add-in of your choice)
½ cup whipping cream
1 egg
Heat oven to 425.
Mix the pancake mix and sugar in a large bowl.
Using a pastry blender, cut in the butter. The mixture should resemble coarse crumbs.
Stir in the caramel pieces.
In a separate bowl, beat together the whipping cream and egg with a whisk.
Stir the two mixtures together with a wooden spoon and a dough should form.
Sprinkle a work surface with extra pancake mix and place dough onto it. Knead the dough about 5-6 times.
Divide the dough into 2 equal portions and shape into circles. Cut the circles into 6 wedges.
Place the wedges onto a cookie sheet and bake for 11-15 minutes.
Serve warm.
Recipe by
Laughing Lindsay
at http://laughinglindsay.com/caramel-pancake-mix-scones-recipe-easy-tasty-fall/