Halloween Cereal Treats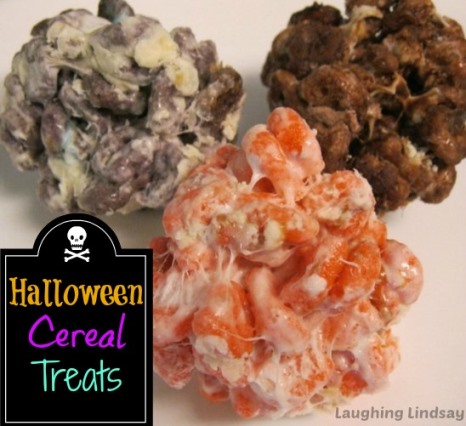 3 cups Count Chocula Cereal
3 cups Frankenberry Cereal
3 cups Booberry Cereal
3 oz butter
15 oz marshmallows
¼ cup chocolate chips
½ cup white chocolate chips
sprinkles for garnish, if desired
Grease two cookie sheets or muffin tins.
Heat ⅓ of the marshmallows and butter in a saucepan over low heat. When the mixture is melted, smooth, and glossy, add 1 of the cereals to it. Mix well and add ¼ cup chips (chocolate chips for Chocula cereal and white chocolate for Frankenberry and Booberry).
Allow the cereal to cool very briefly and then work the cereal into balls with hands. It's at this point you may roll the balls into sprinkles and then place them onto a cookie sheet or in a muffin tin to cool.
Repeat the process with the remaining two cereals and serve.