Golden Grahams Chicken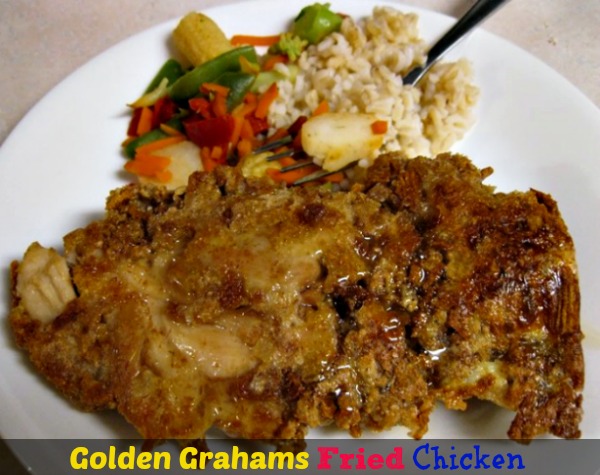 4 Boneless Chicken Thighs
1 Cup Flour
Cayenne
2-3 Eggs
1 Cup Golden Grahams Cereal
½ Cup Rice Chex Cereal
1 Cup Honey
Dashes of Tabasco
¼ Cup Apple Cider Vinegar
Salt & Pepper
Olive Oil
Canola Oil
Chop up and combine the two cereals. You may also add ½ cup plain breadcrumbs, if you wish.
Pre-heat oven to 350. Place 3 bowls on working space, near each other. Put the cereal in one bowl.
In another bowl, put in the flour with a dash of salt and cayenne.
In the third bowl, add the eggs.
Arrange the bowls in a line, starting with flour, then the egg bowl, and put the cereal last.
Season chicken with salt and pepper.
Coat chicken in flour and then dip into the eggs.
Move chicken to the cereal and fully cover it with the cereal.
Place the chicken on a baking sheet and give it an optional additional sprinkling of salt.
Bake chicken for 10-15 minutes or until the juices run clear when poked with a fork.
For the honey drizzle: Heat the honey in a pan on medium heat. Add the vinegar and Tabasco sauce to taste. Then, stir.