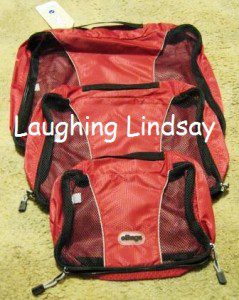 Earlier this year, I excitedly introduced you to the Piazza Lucca Satchel from eBags in a review. Now, I am super happy to partner with them again for another review (and an awesome giveaway to come in the very near future). This time I want to highlight some of eBags great travel products, in case you are planning to take a summer vacation or head out to a lovely blog conference. 😉
Let's start with one of the more unique products I've seen. They are called packing cubes. They allow you to organize your bag easily. There are three cubes which are made of TechLite Diamond Nylon. This means they are soft yet durable. They can be squeezed into your bag to make room for other stuff while keeping the contents inside neatly. There are three different sizes included to allow you to pack all sorts of things. They even include a handy guide to give you ideas of how they can be used. The small cube can be used to store things like toiletries, shorts, hair styling products, writing utensils, electronic cords, snacks, etc. The medium can be used to transport your shorts, pajamas, books, folders, crayons, or just an extra set of clothes. Then, the large is great for your shirts, pants, skirts, light jackets, gym towel, blankets, and even toys. As you can see, they are great for everything from travel and business use to home organization and gym or diaper bags.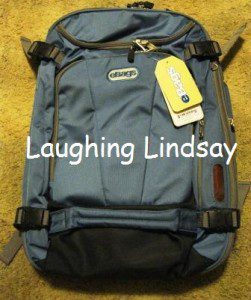 So, you get your stuff organized and packed, but now you need a great piece of luggage to hold it all? Well, the TLS Weekender Convertible bag is a great one to turn to. This thing is really awesome. First, I just thought it was a pretty bag, but when I started to actually look at it, I was amazed with all of its features. This bag looks like a simple backpack, but it is much more than that. It has room for you to carry lots of stuff. I believe it would make for the perfect carry-on bag for a flight. There's a place for your clothing (great for use with the packing cubes) as well as an adjustable Laptop Sling. So, you can have clothing as well as electronics or reading material with you. Additionally, the front of the bag unzips to reveal even more spaces to put stuff. Just look at how much room this bag has (it even has an extra zipper that can be undone to allow the bag to increase in size or zipped up to make the bag flatter).
Not only does the bag provide you with ample space to transport stuff, it has many ways you can carry it. I was surprised to find so many different handles on the bag. There's one on the top of it, the side, and the top of it. Plus, I found two detachable straps for the bag. Additionally, it has the backpack straps which can be stored away and out of sight with a zipper (top left picture in the collage). This means you can wear the bag comfortably, no matter where you are. Just look at the options.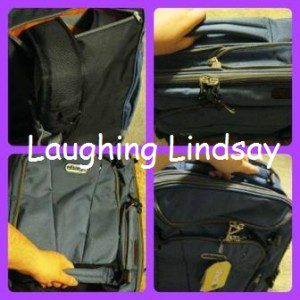 So, are you as impressed with the packing cubes and TLS Weekender Convertible from eBags as I am? I absolutely love it and am just waiting for the opportunity to take it somewhere. 😉 Stay tuned for an upcoming giveaway event with the Noise Girls called Seen in the City for your chance to win some packing cubes and this bag from eBags. Additionally, you can stay up-to-date with them by following eBags on Twitter and liking eBags on Facebook.
Disclosure: I received the eBags packing cubes and bag for free. I was not required to post about them. The opinions expressed are my own.