Here recently I was introduced to the adorableness that is the Elle Runway Collection by Kohls. As you may know, I've got a trip to Europe planned for next summer and this new line of clothing gets me excited to go there as the designs appear to be inspired by Europe. Let me take you away for a second as we explore a couple of looks from it.
Disclosure: Kohl's provided me with Kohl's Gifts for this post.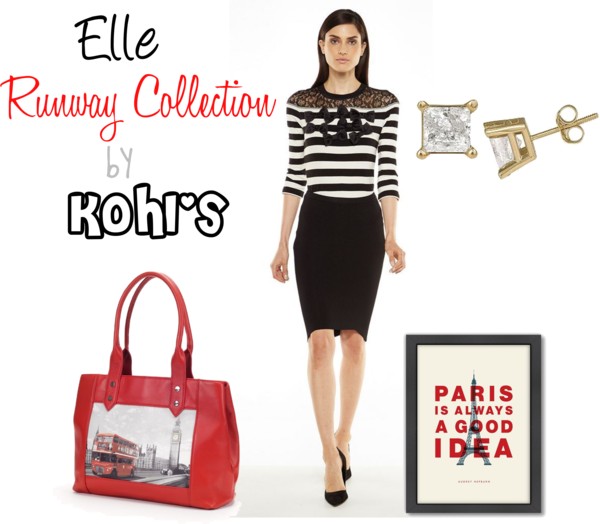 Elle Runway Collection by Kohls
The Elle Runway Collection by Kohls makes me want to walk the streets of Europe, specifically France or London. The outfit above would make me feel ultra feminine with its cute bows and lace on the shirt. Plus, the classic striped shirt look gives it that extra something. The simple black skirt pulls it all together. I added some additional accessories to make it feel even more Europe (all of which is available at Kohls.com). I loved the handbag with a London scene on it and the poster about Paris. I imagine that you would want to keep the jewelry minimal for this outfit since everything else is so fancy, which is why I went with stud earrings only.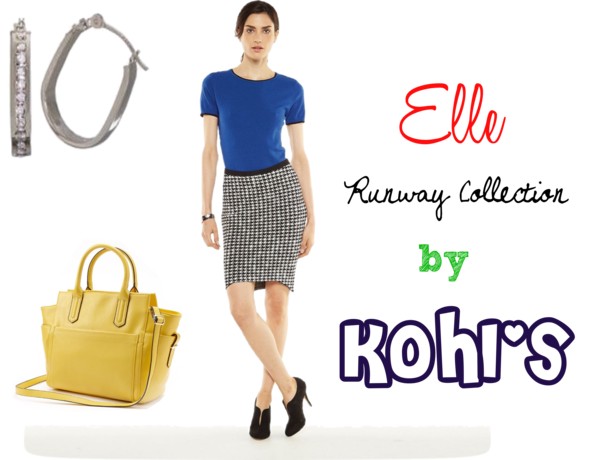 To further illustrate the classic looks available with the Elle Runway Collection by Kohl's, I did this additional outfit pictured here. It has this limited edition outfit and keeps with the shirt tucked into a skirt look. However, the design is different, so it creates a different feeling. I added an additional pop of color with the yellow handbag and some hoop earrings (also from Kohl's).
I am in love with the Elle Runway Collection by Kohls as it is ultra feminine and classy. It can brighten up anyone's day and transport you to another place. You can view the rest of the clothing on the Kohl's website. What do you think of this line from Kohl's?