I'm sure by now that you realize that I love to eat cereal. So, imagine my delight when I received a package of the old favorite cereals that are making a re-apperance to stores after 20 years? I'm talking about the Monster Cereals from General Mills. Just in time for a certain spooky holiday, the cereals can be found in stores to add a little more fun to the season. With that in mind, I present to you these easy Halloween cereal treats. Disclosure: I received a free Monster Cereals package with cereal and recipes, including this one.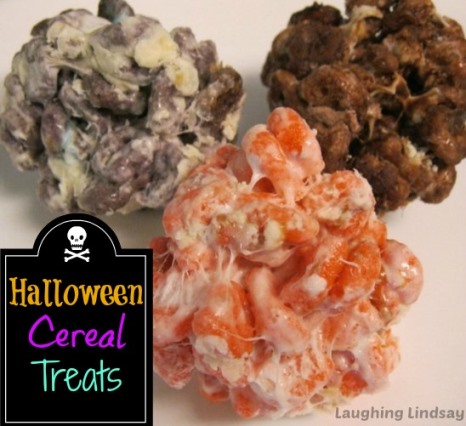 Halloween Cereal Treats
The recipe cards I received with these Halloween Cereal Treats actually referred to them as Monster "Mash"mallow Cereal Treats. I think that's a cute title, but I adapted the recipe a bit and so I renamed it. The card has you making all three types at once. We decided to split the butter and marshmallow to make the types separately. It seemed easier as we weren't trying to make them all at once. Plus, it allowed us to use a smaller pan and fewer bowls as we rinsed it out to be reused. However, you can totally make them all at once. Additionally, we forgot the sprinkles. So, we left those out.

Halloween Cereal Treats
Celebrate the return of the Monster General Mills cereals with these Halloween treats.
Ingredients
3 cups Count Chocula Cereal
3 cups Frankenberry Cereal
3 cups Booberry Cereal
3 oz butter
15 oz marshmallows
¼ cup chocolate chips
½ cup white chocolate chips
sprinkles for garnish, if desired
Instructions
Grease two cookie sheets or muffin tins.
Heat ⅓ of the marshmallows and butter in a saucepan over low heat. When the mixture is melted, smooth, and glossy, add 1 of the cereals to it. Mix well and add ¼ cup chips (chocolate chips for Chocula cereal and white chocolate for Frankenberry and Booberry).
Allow the cereal to cool very briefly and then work the cereal into balls with hands. It's at this point you may roll the balls into sprinkles and then place them onto a cookie sheet or in a muffin tin to cool.
Repeat the process with the remaining two cereals and serve.
So, are those not some of the easiest Halloween cereal treats ever? Were you a fan of the Monster Cereals as a child? Let me know if you end up making them in the comments.