This how to take notes while traveling post was made possible by the free samples of Post-it Mobile products that I received. No compensation was received. The opinions expressed are my own.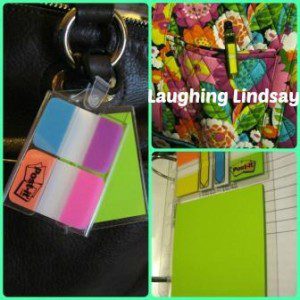 Notes While Traveling
Now that it's summer, it's officially traveling season. Many folks are going on vacation or to blog conferences. Often times when I'm out and about, I'll need to jot something down. For instance, right now is also prime teacher interview season. So, I may get an unexpected phone call for an interview while at the grocery store and I'll want to write down the date, time, and location of it before I forget. That's why I've taken to carry stuff around to take notes while traveling. Recently, you may have seen this Vine video I made which contained some products that can help anyone take notes while traveling.
That's the new Post-it Mobile products and they are perfect for summer travels. Some of my favorites are in the collage above. The item that is perfect for my purse or backpack is the new Post-it Attach and Go Notes and Tabs Clip Dispenser (pictured on the left). It features both tabs and note pages with a clip-on. So, it attaches perfect to any bag. Plus, it makes it super easy to find. I don't have to waste time looking around my bag for a piece of paper to take notes on with this.
In the upper right, there's the Post-it Mobile Attach and Go 3 in 1 Pen. It has flags, a medium ballpoint pen, and yellow highlighter. Plus, it has a clip so I can attach it to my bag easily. It would pair perfectly with any of the paper Post-it Mobile products to make notes while traveling a breeze. Plus, I can highlight key points of interest when I need to with this pen.
The item in the lower right is the Post-it Mobile Attach and Go Insert. I love it for my binder. I kept my lesson plans in a binder for student teaching and would refer to my lesson throughout the day. So, having a pad of notes and tabs available at any time is great. Plus, if I want to take a binder to conference, I can now easily keep some Post-it products nearby for notes at all times.
As you can see, taking notes while traveling is now so easy with Post-it. What do you think of these new products? Will you be picking any of them up before your next trip?
Disclosure: I received free samples of Post-it Mobile products.