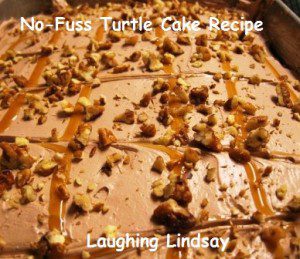 On Monday, I posted the Kraft No-Fuss Turtle Cake Recipe which contained the new COOL WHIP Frosting. Today, I want to tell you my thoughts on this new product as well as host a special giveaway! For starters, look at how delicious the chocolate frosting looks when you first open up the container of it.
Found in the freezer aisle, COOL WHIP Frosting is whipped to perfection, making it easy to spread while providing a perfectly sweet touch to your baked goodies. As a great alternative to canned frosting, COOL WHIP Frosting comes in three flavors: Chocolate, Vanilla and Cream Cheese.
I was excited to try this frosting as I love frosting. However, my boyfriend's sister does not. She actually confessed to me that she likes to mix regular COOL WHIP into frosting because she prefers the texture and taste it creates to regular frosting. Now, she doesn't have to do that. She can just purchase this frosting. So, it will definitely save her time when baking goods now.
I liked it because it was easy. This frosting is the perfect consistency to spread on to cakes with a spatula. It goes on smoothly and looks pretty. Plus, it tastes delicious. My boyfriend was surprised that it tasted so good but the packaging didn't show it containing any Trans Fats. Most frosting from the store contains lots of it. I and my boyfriend's family was definitely impressed with the new frosting from COOL WHIP. I know we will be purchasing this in the future since it is so good and everyone likes it. Everyone had multiple pieces of the cake, so you know it's a winner. Now, one lucky reader can win a special prize package! Take a look at a sampling of what you can win!
WIN!
One lucky Laughing Lindsay reader will win a holiday baking prize package valued at $100 from Kraft Foods and COOL WHIP including free product coupons for the new COOL WHIP Frosting, Stainless Steel Cake Icing Spatulas by MIU, and more!
THIS GIVEAWAY HAS CLOSED!
Disclosure: I am working in partnership with the COOL WHIP brand and I am receiving compensation for my participation in this campaign. All thoughts/opinions are 100% my own. Prizes are to be fulfilled by Kraft Foods or its agency.