You may have noticed the addition of this great little button on my memberships page recently. It means I'm a very lucky blogger. 😀 Actually, it means that I am going to be able to bring readers new products and recipes from Kraft Foods now. Yay! You don't know how excited and proud I am to be a Kraft Foods Official Delicious Byte Blogger. To kick-off this new relationship, I am hosting a giveaway for a wonderful package of new products from Kraft Foods which can energize your entire day!
Last semester, I loved starting my day off with a peanut butter and banana bagel sandwich. However, I think this Peanut Butter Banana Waffle-Wich sounds fabulous. Plus, it uses the new PLANTERS Natural Peanut Butter which is so good. It has a great peanut taste and it's a great way to get going in the morning as I feel like peanut butter keeps me full until lunch better than some other breakfast options. Another great product to give me energy is the CRYSTAL LIGHT Energy On-The-Go Sticks in new Citrus flavor. It makes for a delicious lunch beverage as it keeps me going until the bell rings at 3:30 and then some (for bus duty and meetings).
Then, I love to pack the SNACKWELL'S new Peanut Butter Pretzels or new Cinnamon Crème Drizzled Caramel Popcorn for lunch or a quick snack afterschool. They both are a really tasty snack option. My dad enjoyed the pretzels since he's a fan of both peanut butter and pretzels. He thought it was a pretty good and unique idea to combine the two. I loved the drizzle on the popcorn. It was great to feel like I was getting a treat without the guilt.
I've previously told you how much I like the KRAFT MILKBITE Milk & Granola Bars in a review last month. I think they are a great snack to come home to. It's so great to just reach for one while I wait for dinner to be made or afterwards while watching tv. One of my favorite drinks is definitely hot chocolate. So, imagine my delight earlier this year when my boyfriend and I spotted the new JET-PUFFED Mallow Bits in Vanilla. I have been enjoying these little things in my hot chocolate ever since! They would also be great on ice cream since they are so small and crunchy.
I also got a coupon to try the KRAFT FRESH TAKE. I'm a huge fan of chicken. So, the Italian Parmesan had my name on it. This is a cool new product. It's a mixture of spices, breadcrumbs, and cheese that you put on meat before you bake it to give it some delicious taste! The Awesome Artichoke Dip doesn't look too bad either. I love the ease and quickness of this product as does my mom. 😉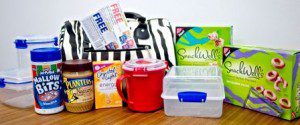 Lastly, I also received a stylish lunch tote and food storage set for this post. I had been carrying a plain, black lunch bag for my lunch. Then, I took this one to lunch and the teachers I ate with loved it! They were surprised to see me carrying a new bag and even more surprised that it's a lunch bag! They thought I had a new purse! That's how awesome it looks. The food storage set is great, too. I love all of the containers and neat pieces. Now, I can take literally whatever I want to eat. Haha!
This is definitely one of my favorite packages I've received as a blogger with all of the new Kraft Foods products and kitchen tools. Everything just fits right into my day perfectly and easily.
WIN! THIS GIVEAWAY HAS CLOSED!
One lucky Laughing Lindsay reader will win a Kraft Foods New Year, New Products Energize Your Day Prize Package (pictured above, like the one I received) consisting of:
* PLANTERS new Natural Peanut Butter
* CRYSTAL LIGHT Energy On-the-Go Sticks in NEW Citrus
* New KRAFT MILKBITE Milk & Granola Bar (coupon for free product)
* SNACKWELL'S new Peanut Butter Pretzels and new Cinnamon Crème Drizzled Caramel Popcorn
* New KRAFT FRESH TAKE (coupon for free product)
* New JET-PUFFED Mallow Bits
* Lunch Break Insulated Zebra-print Lunch Tote
* KLIP-IT by Sistema 14-piece Food-to-Go Storage Set
Wow! This package has a value of up to $75!
To enter: Tell me which of these new Kraft Foods products you are most interested in trying in a comment.
This entry is mandatory, if you do not do #1, you cannot do the "extra" entries. Comments like "enter me" will not be eligible!
Extra Entries
For each extra entry please post an additional comment!
1. Follow me on Twitter (let me know your handle in a comment).
2. Tell others about this giveaway (Tweet, Digg, Stumble, email, forum, meme, blog it, etc). You get one extra entry for each thing done. One Tweet allowed per person.
3. Follow my blog and tell me (or tell me if you already are).
4. Subscribe to my blog's feed and tell me (or tell me if you already do).
5. Add my blog button to your blog (leave blog link).
6. Comment on a non-giveaway post. (Come back and tell me which one.).
Giveaway ends on March 31st at 11:59 pm EST.
The winner will be chosen via random number generator the next day and notified by email. If I don't hear back from the winner within 48 hours of sending the winning email, I'll pick another.
GOOD LUCK!
*Open to US residents only.
Disclosure: Kraft Foods sent me a basket of free products and Kitchen tools. The opinions expressed are my own. Also, Kraft Foods is providing the prizes for this program at no cost to me and has provided me with a gift of equal value for review. This program is not administered or sponsored by Kraft Foods or its affiliates, but solely by Laughing Lindsay.