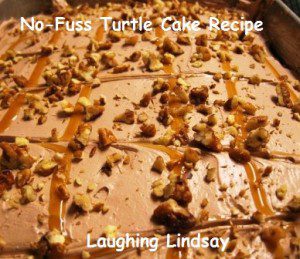 As you already know, I simply love Kraft Foods. They make so many different products and all of them make my life easier. I recently had the opportunity to try out the new COOL WHIP Frosting and I made the No-Fuss Turtle Cake to do it. Check out this turtle cake recipe below and see just how easy it is to make. Plus, it's simply delicious! 🙂

Kraft No-Fuss Turtle Cake
Prep time:
Cook time:
Total time:
Easy turtle cake from Kraft Foods using COOL WHIP Whipped Frosting.
Ingredients
1 pkg. (2-layer size) chocolate cake mix
1 tub (10.6 oz.) COOL WHIP Chocolate Whipped Frosting, thawed
3 Tbsp. caramel ice cream topping
½ cup chopped PLANTERS Pecans
Instructions
PREPARE cake batter and bake in 13x9-inch pan as directed on package (we did substitute apple sauce for the oil in ours) and then cool completely.
SPREAD cake with frosting; drizzle with caramel topping (TIP: Drizzle caramel topping in even parallel lines down length of cake. Pull tip of knife crosswise through caramel lines to make decorative design.).
SPRINKLE with nuts. Keep refrigerated.
Isn't that easy? The hardest part was waiting for the cake to bake and to cool before frosting. Seriously, it all smelled so good that it was horrible having to wait around for the cake cool. The cake was great. My whole boyfriend's family would agree. They all loved it. We each had multiple pieces of it. It went really quickly. Even my boyfriend's sister who doesn't like overly sweet things (especially frosting) liked it.
Disclosure: I received coupons to try the frosting and a spatula for free. No compensation was received. The opinions expressed are my own.