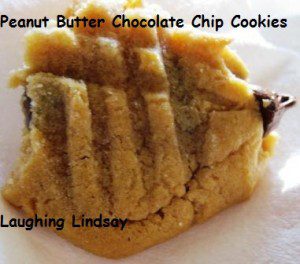 I am so excited that in a little over a week, I will be attending Mixed Conference. I can't wait to learn more tips for baking as well as interact with the fabulous people (and brands) that will be in attendance. One of the big sponsors is OXO. As such, they are encouraging everyone to post their favorite cookie recipe to correspond with their OXO Good Cookies initiative. It's a program started by two OXO employees to help fight pediatric cancer. By hosting local bake sales, OXO hopes to help raise more money for the cause. So, I thought it would only be right if I posted my favorite childhood cookie recipe with a little modification…
When I think of Christmas baking, I think of baking cookies with my mom. We used to always bake sugar cookies and my favorite, peanut butter cookies. I decided they needed a little chocolate. So, I'm sharing with you our Peanut Butter and Chocolate Chips Cookie recipe which contains lots of peanut butter.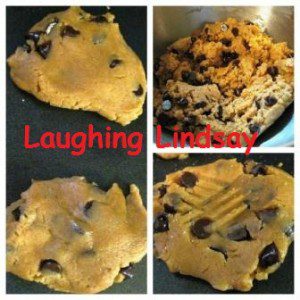 Peanut Butter Chocolate Chip Cookies
Prep time:
Cook time:
Total time:
Delicious, really peanut buttery peanut butter with chocolate chip cookies.
Ingredients
1 cup peanut butter
½ cup butter
½ cup sugar
½ cup packed brown sugar
½ teaspoon baking soda
¼ teaspoon salt
1 egg
½ teaspoon vanilla
1¼ cups flour
1 cup chocolate chips
Instructions
Preheat the oven to 375 degrees.
Combine the peanut butter and butter. Then, add in the sugars, baking soda, and salt, mixing until combined.
Beat in the egg and vanilla. Then, add the flour a little at a time. Mix together and then add the chocolate chips.
Form the dough into balls and place onto a cookie sheet. You can flatten the cookies and create a crisscross pattern using a fork (my mom always did). Dip the fork into sugar in between cookies.
Bake for 8 to 12 minutes, depending on how big the cookies are.
Remove cookies from oven and cool.
This recipe makes between 2-3 dozen cookies. I tend to make big cookies which means less cookies and more baking time. However, some people make them smaller (my mom). So, there you have it. My Peanut Butter Chocolate Chip Cookie recipe. What do you think of them? Please let me know if you decide to make them.
Disclosure: Posting this recipe enters me into a contest for OXO for Mixed. attendees. No compensation was received. The opinions expressed are my own.