Have you seen the newest spring accessories 2015 line from Kohl's yet? If not, I think it's definitely worth a look.
Disclosure: I received these items for free.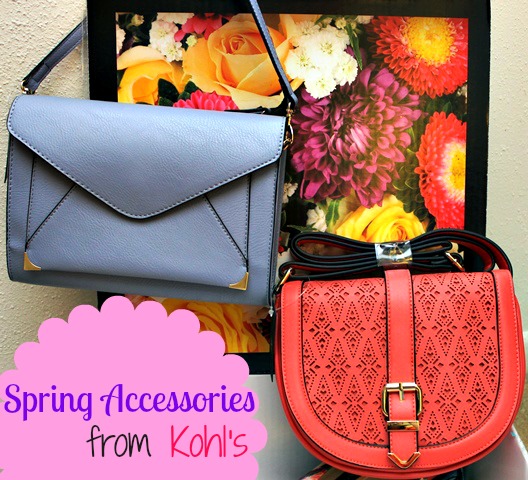 Spring Accessories 2015
Ah. It's finally spring. That means it's time for brighter colors and fun patterns as the weather warms up a bit. Personally, I prefer to keep my outfits classic with a pop of color here and there. That's why I absolutely love the spring accessories 2015 line from Kohl's.
Kohl's has quickly become one of my favorite places to shop for clothing as they have so much to choose from at reasonable prices. Recently, I was lucky enough to receive a box of the spring accessories 2015 lines from Kohl's and I was very pleased. In it were the two purses pictured above. On the left is the Apt. 9 Ann Envelope Convertible Clutch in periwinkle and on the right is the Apt. 9 Margo Crossbody Bag in Hot Coral. Both of these Apt. 9 bags have great compartments inside that make them great for practical purposes. The color and design make them hot for spring though. They would definitely brighten up any outfit. In fact, I'm thinking of taking the crossbody bag with me to Europe over the summer, just because it's so useful and cheery.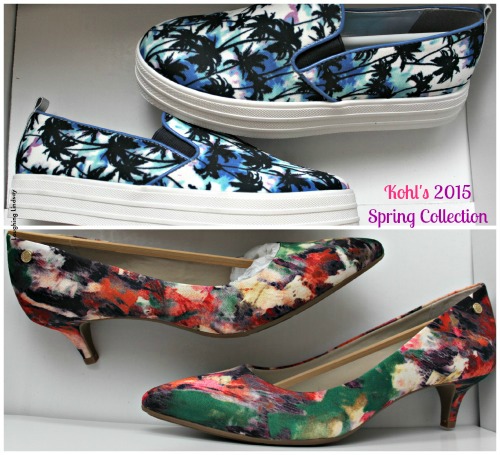 In addition to the darling bags, there were 2 pairs of shoes, pictured here. There's the Juicy Couture Women's Palm Tree Slip-On Sneakers, which looks beautiful! Just looking at them takes me away for a moment. I think that wearing them all day would make me happier as I would have periodic thoughts of the beach throughout the day. Additionally, there's the Dana Buchman Olyvia floral heels which look so fun! There are so many colors that can be coordinated with them to make for a perfect spring look.
As you can see the spring accessories 2015 line from Kohl's is filled with fun prints and colors while being easy to style with things you already own. This year, they are really making it easy for us to add a pop of color to our wardrobes without breaking the bank. Both bags are $39 and the shoes are $59.99. I think that's pretty reasonable, especially considering how high quality Kohl's items are.
Have you purchased any new spring accessories yet?