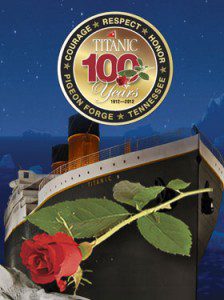 It's no surprise, that I love visiting the Titanic Museum Attraction in Pigeon Forge. I mean I've been lucky enough to visit a couple of times and post a couple of Titanic Museum reviews. So, when I was offered the opportunity to tell you about the 100th Anniversary Tribute Event going on at the museum (and host a giveaway), I jumped on it.
Both of the Titanic Museums are hosting a Titanic Tribute Event on Saturday, April 14th at 8:30 pm. These are the only 2 places in the United States where guests can attend a tribute event. It is called "A Night to Remember: An Original Musical Tribute to Titanic," and it will feature musical performances, historic ceremonies and appearances by actual descendants of Titanic's passengers and crew! Wow! Won't that be a lovely event and tribute to those who were on the ship? Oh, and in case you were wondering, April 14th is the 100th anniversary of the night the ship hit the iceberg. So, the tribute will have some real meaning to it.
I'm actually going to be receiving passes to the event. However, one lucky reader will win a family pack of tickets to the museum to visit during the 100th year anniversary. The tickets will be good until August 31, 2012 with one day they can't be used: April 14th. So, 2 adults and up to 4 kids can visit the museum with these passes.
WIN! THIS GIVEAWAY HAS CLOSED!
One lucky Laughing Lindsay reader will win a family package (for 2 adults and up to 4 children living in the same house) of tickets to the Titanic Museum Attraction. Tickets are good thru 8/31/12 with a blackout date of April 14th.
To enter: Tell me why you would like to win this package of tickets in a comment.
This entry is mandatory, if you do not do #1, you cannot do the "extra" entries. Comments like "enter me" will not be eligible!
Extra Entries
For each extra entry please post an additional comment!
1. Follow me on Twitter (let me know your handle in a comment).
2. Tell others about this giveaway (Tweet, Digg, Stumble, email, forum, meme, blog it, etc). You get one extra entry for each thing done. One Tweet allowed per person.
3. Follow my blog and tell me (or tell me if you already are).
4. Subscribe to my blog's feed and tell me (or tell me if you already do).
5. Add my blog button to your blog (leave blog link).
6. Comment on a non-giveaway post. (Come back and tell me which one.).
Giveaway ends on April 1st at 11:59 pm EST.
The winner will be chosen via random number generator the next day and notified by email. If I don't hear back from the winner within 48 hours of sending the winning email, I'll pick another.
GOOD LUCK!
*Open to US residents only.
Disclosure: The prize tickets are being provided by the Titanic Museum Attraction. Also, I will be receiving free VIP tickets to the tribute event at the museum for hosting this giveaway. The opinions expressed are my own.