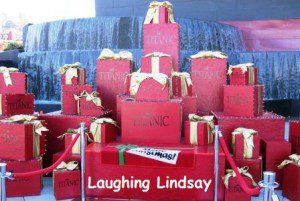 As you know, I love it when I get to feature the Titanic Museum Attraction. It seems like they are always coming up with something new to display that makes me want to go back and visit. Just in time for holiday season, the Titanic Museum Attraction in Pigeon Forge has been decorated for Christmas! That's right, they have put up greenery, lights, and Christmas trees around the museum! I was able to take a tour of the newly decorated attraction a week ago and was very pleased with it.
For starters, the outside of the ship is decorated. The light poles have ribbon bows and greenery wrapped around them. Then, there are wreaths on the outside of the museum. Additionally, there is the huge pile of gift boxes (pictured above) outside in front of the bow of the ship. It is perfect for taking pictures with. There's even a little spot for you to sit down and do so. I love that the packages even say "Titanic" on them so you know where you were when you took the picture.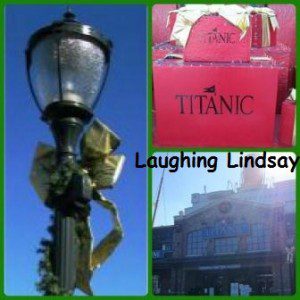 The inside of the museum is decked-out, too. They have strategically placed decor around the museum so that you are reminded that it's almost Christmas without it being over the top. For instance, my boyfriend liked that the bags of mail had bows on them. He suggested that kids had written letters to Santa that were being mailed. Additionally, the suites are decorated, too. The second class passenger room had some neat little things while the first class suite had a full size Christmas tree in it.
They also managed to make the grand staircase look even more beautiful. There are two Christmas trees at the bottom of it. Then, there's pretty greenery and red bows on the staircase. This also means that when you have your picture taken, the background of the grand staircase includes the pretty Christmas scenery. It's a really nice touch to complete the overall Christmas takeover of the museum.
Vising the museum was the perfect way to kick-off the holiday season. All of the pretty decor definitely helped get me into a more cheery mood. Now, I want to decorate my home for the holidays. So, will you be visiting the Titanic Museum Attraction this holiday season?
Disclosure: I received free passes to the museum. No compensation was received. The opinions expressed are my own.