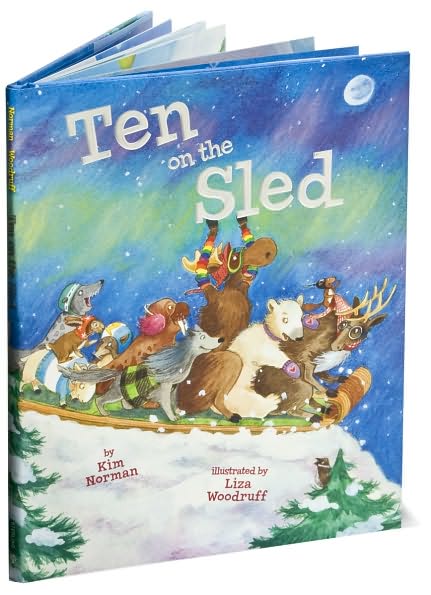 Being an education major, I'm always on the lookout for an interesting or cute children's book to add to my collection (I can't predict what grade level I'll end up teaching). So, when the chance to review the new book, Ten on the Sled came up, I replied quickly. It's based on the idea from the book "Ten in the Bed". However, it's great for winter because it has animals on a sled!
I think the storyline and pictures in this book are adorable! You start with 1 animal on the sled and quickly get 10. Then, the animals start falling off as the sled goes speeding down the hill. Here is a wonderful image of some of the pages from the book to demonstrate what I mean.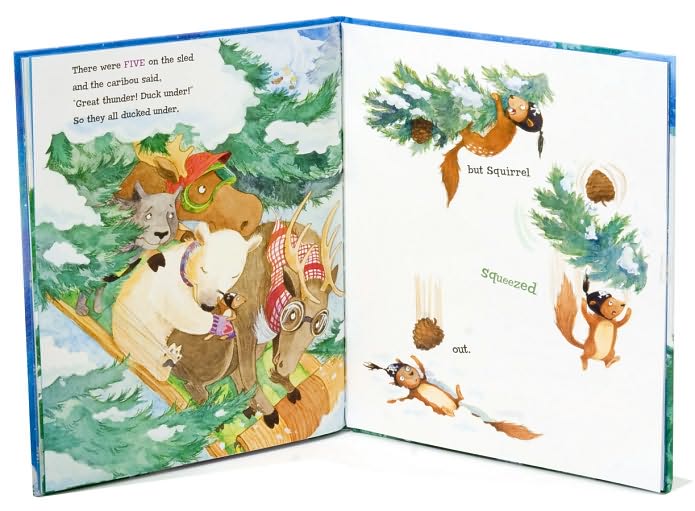 Isn't that so cute? Not only will children enjoy the story (guess who makes it to the end on the sled), but you can use it to teach various things. It would be a wonderful lesson to teach counting with a young child. The number words are highlighted so that you can have a child tell you how many animals remain on the sled and then turn the page to find out. It's really a great book that I'm glad to have to add to my classroom library collection.
WIN! THIS GIVEAWAY HAS CLOSED!
I'm allowed to give one very lucky reader a copy of Ten on the Sled!
To enter: Tell me why you would like to win this adorable book.
This entry is mandatory, if you do not do #1, you cannot do the "extra" entries. Comments like "enter me" will not be eligible!
Extra Entries
For each extra entry please post an additional comment!
1. Follow me on Twitter (let me know your handle in a comment).
2. Tell others about this giveaway (Tweet, Digg, Stumble, email, forum, meme, blog it, Google Buzz, etc). You get one extra entry for each thing done.
3. Follow my blog and tell me (or tell me if you already are).
4. Subscribe to my blog's feed and tell me (or tell me if you already do).
5. Add my blog button to your blog (leave blog link).
6. Comment on a non-giveaway post. (Come back and tell me which one.)
Giveaway ends on November 9th at 11:59 pm EST.
The winner will be chosen via random number generator the next day and notified by email. If I don't hear back from the winner within 48 hours of sending the winning email, I'll pick another.
GOOD LUCK!
*Open to US residents only.
Disclosure: I received a free copy of Ten on the Sled for review purposes. No compensation was received. The opinions expressed are my own.