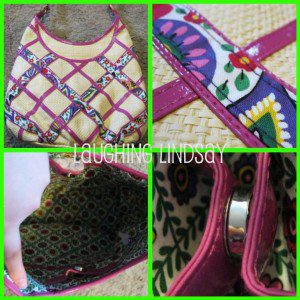 I'm sure you've heard of Vera Bradley for the wonderful bags and accessories. The designs are simply beautiful and interesting. Did you know there's even a cupcake pattern? While I didn't receive any of the cupcake patterned items to review, I did receive two items from the beach and straw Vera Bradley collection. Yay!
I received the Viva la Vera Hobo bag. It is pictured above. Isn't it simply stunning? It has the criss-cross of pattern across the straw. It's actually a very roomy bag. I've been using it to carry my stuff for my summer class. It's the perfect size for my textbook, a notebook, some pencils, my keys, id holder (which is also Vera Bradley), and my iPod Touch with room left over. I attempted to show you how big the inside is in the bottom left picture. I also like the snap closure (pictured on the bottom right). The strap is actually the perfect length. It hangs right about my hip, which is great. I also like that the strap is soft and doesn't rub my shoulder. I also like the little touches on the bag. I like the bamboo rings which the strap goes around. I was also in love with the insider zipper. Look at it…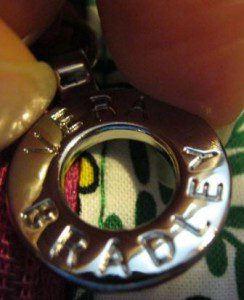 Isn't that nice? I love that is has the name on it. The insider zipper portion is pretty roomy, too. I also like the outside pocket which is equally roomy.
The other item I received was the Viva la Vera Beach Towel. This towel is beautiful! I love the wonderful and bright colors of it. It's the perfect towel for the beach or pool. It's the perfect summer towel. I also LOVE the size of it. It's got some great length to it, perfect for laying out on it. See how pretty and big it is…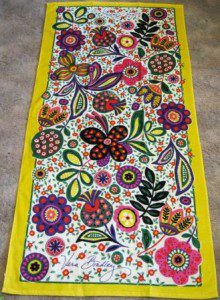 Isn't it so cute? I think the entire line is so fun. It's a wonderful summer time line with all of the bright colors and designs.
Just curious, do you own any Vera Bradley items? What is your favorite Vera Bradley item or design?
Disclosure: I received the hobo bag and towel for free. No compensation was received. The opinions expressed are my own.