Last week, I posted about the easy autumn pumpkin apple butter dip (which was delicious). In that picture, you may have noticed the delicious looking pastries accompanying the dip. So, today I wanted to share this super easy caramel pancake mix scones recipe with you.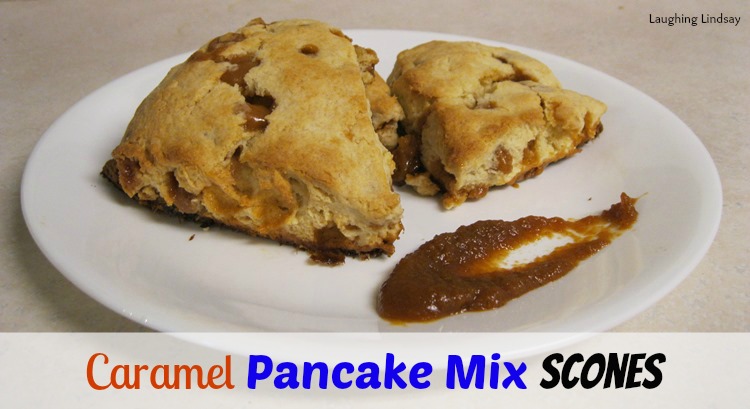 Pancake Mix Scones Recipe
This pancake mix scones recipe can be adapted with 1-2 cups of other ingredients (in place of the caramel) of your choosing. I want to try chocolate chip or blueberries some day as I think that would be delightful. Plus, these are super easy to make and I'm positive we'll make some variation of them again. I will admit that my boyfriend and I selected caramel just because it seemed like a good idea to go with the apple butter pumpkin dip. However, we didn't think about the possible big mess the caramel bits would create when they baked. So, here's a personal tip if you make these with caramel: remove them from the pan asap or they will be stuck to the pan and will break apart as you remove them. Plus, they are extra good when they are warm.

Caramel Pancake Mix Scones Recipe
Prep time:
Cook time:
Total time:
An easy pancake mix scones recipe that can be adapted to make other varieties.
Ingredients
3¼ cups pancake mix
¼ cup sugar
¼ cup cold unsalted butter, cut into small pieces
1-2 cups caramel pieces (or other add-in of your choice)
½ cup whipping cream
1 egg
Instructions
Heat oven to 425.
Mix the pancake mix and sugar in a large bowl.
Using a pastry blender, cut in the butter. The mixture should resemble coarse crumbs.
Stir in the caramel pieces.
In a separate bowl, beat together the whipping cream and egg with a whisk.
Stir the two mixtures together with a wooden spoon and a dough should form.
Sprinkle a work surface with extra pancake mix and place dough onto it. Knead the dough about 5-6 times.
Divide the dough into 2 equal portions and shape into circles. Cut the circles into 6 wedges.
Place the wedges onto a cookie sheet and bake for 11-15 minutes.
Serve warm.
So, what do you think of this super easy caramel pancake mix scones recipe? What kind of scones are you going to make?